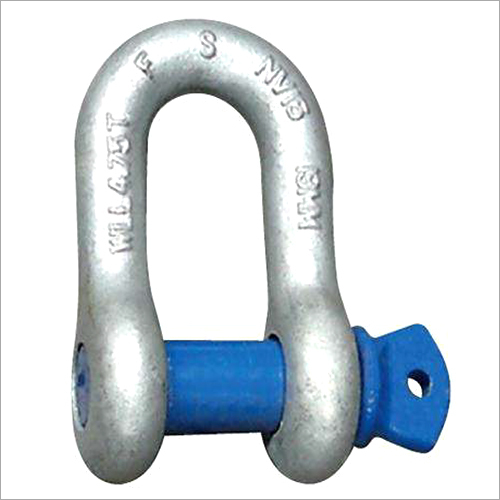 D Shackles
Price And Quantity
Product Specifications
Product Description
Features :
Designed for easy Frequent Application
For use on direct lifting or single load systems.
Traceability code, capacity, Ferreterro and WLL embossed.
Other Details :
Material : Grade 80 steel with alloy pin.

Construction : Heat treated and stress relived.

Finish : Galvanized and coated.

Proof load : Tested at 2 times the working load.

Fatigue : Fatigue tested at 1.5 times of WLL.

Standard : As per US federal specification RR-C-271-D.
Specification :

Normal Size (in)

Working Load (t).

Weight Each (kg)

Dimensions (mm)

Tolerance +/-

A

B

C

D

E

F

G

K

L

M

C

A

1/4

1/2

.06

11.9

7.85

6.35

6.35

24.6

15.5

22.4

40.4

4.85

35.1

1.50

1.50

5/16

3/4

.08

13.5

9.65

7.85

7.85

29.5

19.1

26.2

48.5

5.60

42.2

1.50

1.50

3/8

1

.13

16.8

11.2

9.65

9.65

35.8

23.1

31.8

58.5

6.35

51.5

3.30

1.50

7/16

1-1/2

.20

19.1

12.7

11.2

11.2

41.4

26.9

36.6

67.5

7.85

60.5

3.30

1.50

1/2

2

.27

20.6

16.0

12.7

12.7

46.0

30.2

41.4

77.0

9.65

68.5

3.30

1.50

5/8

3-1/4

.57

26.9

19.1

15.7

16.0

58.5

38.1

51.0

95.5

11.2

85.0

3.30

1.50

3/4

4-3/4

1.20

31.8

22.4

20.6

19.1

70.0

46.0

60.5

115

12.7

101

6.35

1.50

7/8

6-1/2

1.43

36.6

25.4

24.6

22.4

81.0

53.0

71.5

135

12.7

114

6.35

1.50

1

8-1/2

2.15

42.9

28.7

25.4

25.4

93.5

60.5

81.0

151

14.2

129

6.35

1.50

1-1/8

9-1/2

3.06

46.0

31.8

28.7

28.7

103

68.5

91.0

172

16.0

142

6.35

1.50

1-1/4

12

4.11

51.5

35.1

31.8

31.8

115

76.0

100

191

17.5

156

6.35

1.50

1-3/8

13-1/2

5.28

57.0

38.1

35.1

35.1

127

84.0

11

210

19.1

174

6.35

3.30

1-1/2

17

7.23

60.5

41.4

38.1

38.1

137

92.0

122

230

20.6

187

6.35

3.30

1-3/4

25

12.1

73.0

51.0

44.5

45.5

162

106

146

279

25.4

231

6.35

3.30

2

35

19.2

82.5

57.0

51.0

51.0

184

122

172

312

31.0

263

6.35

3.30

2-1/2

55

32.5

105

70.0

66.5

66.5

238

145

203

377

35.1

330

6.35

6.35
Trade Information
Cash Advance (CA)

As per order Per Month
Contact Us
Bhagavati Tower, Near Bhagawati Temple, P.V.S. Kalakunj Road, Kodiabail, Mangaluru, Karnataka, 575003, India
Phone :+918045475459